Lookin' For Hits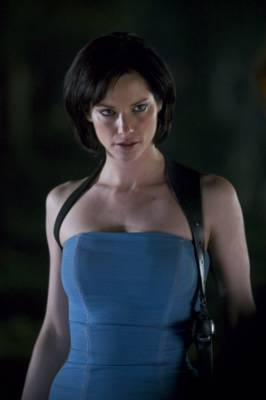 This is a blatant attempt to relive the glory days of this blog. By that I mean the absurd numbers of people who came to this blog via Miss Erica Durance. I've got all the right ingredients...
Bad movie based on video game.
Little known actress.
A refreshingly liberal view concerning clothing.
So let's go.
Please meet Ms. Sienna Guillory. She plays the role of policewoman Jill Valentine in Resident Evil: Apocalypse. Pause for a quick review of said film. I guess the best way to describe it would be like this. Imagine a jawbreaker with a soft candy center. Now imagine the outer layer tasting like rotten fish. Sure, the center might be good, but it's honestly not worth the effort. If you're looking for a Milla Jovovich fix, I would suggest you rent The Fifth Element.
But back to Ms. Guillory. She made her U.S acting debut in The Time Machine, which I had up to now conveniently forgot about. But that's not why you're here.
The USA Network, famous for Walker Texas Ranger and...I guess other shows, broadcast a 'Television Event" entitled Helen of Troy in 2003. Sienna played the title role, and while I can't speak to her performance...
And with that I bid you good night.
Take Care,
Mike G.