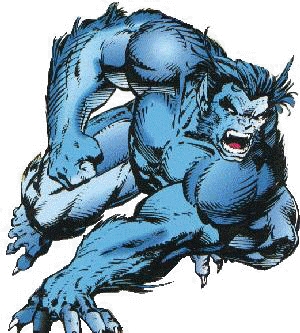 This is Hank McCoy, better known to the world as the Beast. He possesses incredible agility, as well as incredible strength and acrobatic dexterity. He is also a brilliant biochemist. In addition to his duties as a member of the X-Men, he has maintained a reserve status in The Avengers.
Yup, Frasier Crane/Sideshow Bob is going to be Beast in X-Men 3.
Click here
for the full scoop.
I just don't know. First, Bryan Singer left to go do Superman. Then Marvel/20th Century Fox decided to hire Matthew Vaughn, who's only directed one other film. It does look like all the previous cast is locked down, so that's a positive. As far as Beast goes, while I think Kelsey's a good match vocally, I hope they plan on a bunch of CGI or stuntmen if the script calls for anything besides Beast sitting down drinking tea.
Courage,
Mike G.