Originality?!?
Since every other show on TV features people talking about what happened last week, or last decade in nice orderly lists, Churn decided that to join in by officially marking the death of this particular trend. Churn has done this before by using the term 'bling' in ordinary conversation, collecting Pokemon cards, and wearing Zubaz striped pants. To differentiate approval and disproval of a news item, we'll be using the terms
Churn-On
and
Churn-Off
. So let's begin with Item #1...
Rebecca Gayheart to appear on FX's provocative drama Nip/Tuck
The former Noxema Girl and 90210 star will guest star as a blind woman on the popular and sometimes shocking show.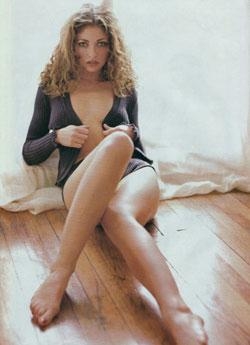 As this picture proves, she is incredibly attractive, and a stint on Nip/Tuck can only increase her exposure.
Churn-On!
Now, with that exposure comes the unfortunate fact that, along with a resume that contains
Urban Legend
and
Robin Cook's Invasion
, she has something most actresses don't have.
A body count.
For those of you who don't remember, back in 2001 Ms. Gayheart struck and killed a nine-year old boy with her car.
This site has more details of the incident.
I'm not so sure I have anything else to add to that except...
Churn-Off.
Well, let's see if this catches on.
Take Care,
Mike G.